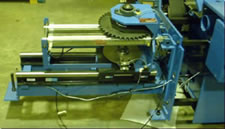 Pneumatic Tensioner:
The Pneumatic Tensioner for the Gatherer is one of the latest enhancements from PrimHall Enterprises. The Pneumatic Tensioner utlilizes an air cylinder and guide rod assembly to provide the tension mechanism for the raceway chain and take-up sprocket.
Advantages of the Pneumatic Tensioner include:
- The ability to provide proper amount of tension in the chain at all times.
- Automatic compensation for chain wear.
- Elimination of chain jumping out of time due to being too loose.
- Compliments the chain overload clutch mechanism to ensure a more consistent overload kickout.
- Elimination of labor to adjust the chain tension.
- Longer chain life.
Servo Drive Elements:
The Servo-Driven Hopper Separator Disc is one of the latest patented enhancements to the PrimHall Gatherer. The inhibit feature on the Servo-Driven Separator Disc dramatically reduces demographic insert damage during extended inhibits. Increased velocity of the separator disc allows longer signatures to be fed and enhances the performance of the Hopper.
- Separator Servo:
- Variable-speed separator disc to extend operating window.
- Reversible disc (for gatefold) with the flip-of-a-switch.
- Inhibit disc rotation during sucker inhibit cycle.
- Disc entry point timing adjustable on-the-fly.
- Expands the signature length capacity of the Hopper.

Stripper Belt Assembly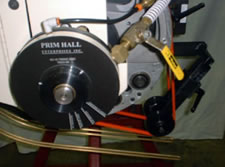 Stripper Belt Assembly:
In the newly designed Stripper Belt Assembly, the stripper belts with "V" form ride in a path around the two drum segments and out to two idler rollers mounted on a support rod slightly downstream from the drum. Both side rollers are on adjustable brackets that change the clearance to the bottom of the raceway. The assembly is available as an upgrade kit on existing Hoppers, or as an upgrade option on new Hopper purchases.
- Simple adjustment over approximately 3-3/4" for side rollers.
- Helps to strip the signature from the gripper drum.
- Directs the lightweight signature into the Gatherer raceway; prevents fly-ups.

Micro-Adjust Tray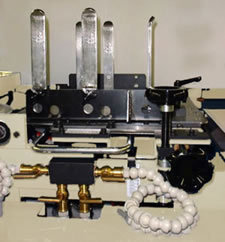 Micro-Adjust Tray:
The new Micro-Adjust Paper Tray design provides for fore/aft adjustments and angular adjustments via knobs. The paper tray is removable with two hand screws. The new tray design is available as an upgrade kit on existing Hoppers, or as an upgrade option on new Hopper purchases.
- Faster makeready.
- Scale provided for rotation and lateral movement.
- Provides the means to adjust the tray the desired amount.
- Basis for quantifying proper set-ups from Hopper to Hopper for a set of signature characteristics